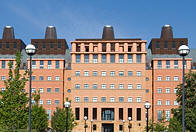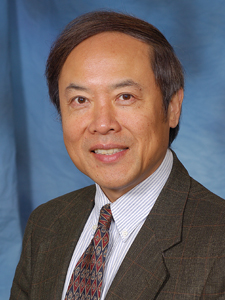 Prof. Donglu Shi
The Materials Science and Engineering Program
Dept. of Mechanical and Materials Engineering
College of Engineering and Applied Science
University of Cincinnati
493 Rhodes Hall
PO Box 210072
2901 Woodside Drive
Cincinnati, OH 45221-0072
USA

Tel 513-556-3100
donglu.shi@uc.edu
 
BIOGRAPHICAL SKETCH
Donglu Shi is currently the Chair and Graduate Director of the Materials Science and Engineering Program and a Graduate School Fellow at the University of Cincinnati.
Donglu Shi received his MS in Physics (1983) and Ph. D. in Engineering (1986) from the University of Massachusetts at Amherst. His Ph. D dissertation was focused on the structures, crystallization mechanisms, mechanical and physical properties of rapidly solidified metallic glasses (Fe-Ni-B) and A-15 superconductors (Nb3Al, Nb3Si). His dissertation experiments on superconducting critical current density at high magnetic field (23 T) were conducted at MIT Francis Bitter Magnet Laboratory. He was a Staff Scientist in the Materials Science Division of Argonne National Laboratory between 1988 and 1995. At Argonne, he was a principal investigator of a major Department of Energy program on electronic ceramics. In 1995, Donglu Shi joined the faculty as an Associate Professor in the Department of Materials Science and Engineering at University of Cincinnati. He was promoted to the full professor position, with tenure, in 2001 at University of Cincinnati.
Donglu Shi has so far published 280 refereed SCI journal publications including Physical Review Letters, Nature, ACS Nano, and Advanced Materials, with an h-index of 50. He has edited 12 books in superconductivity, functional thin films, nanomaterials, biomaterials, tissue engineering, and nano biomedicine (World Scientific, Pergamon Press, Springer-Verlag). He holds seven US patents in electronic materials. He is currently the Editor-in-Chief of Nano LIFE, and Associate Editor of Materials Science & Engineering: C, and J. of Nanomaterials. Donglu Shi has been elected as a Graduate Fellow at the University of Cincinnati in 2016. He has received the SIGMA XI Research Recognition Award, Distinguished Researcher Award, and Neil Wandmecher Teaching Award.
Donglu Shi¨s main interests include nanostructure design, energy materials, nano biomedicine, nanophotonics, and magnetism. He has recently develop a new approach in tuning the photon absorption for energy efficient architectural materials, His recent works on Nanomedicine pioneer several novel approaches in developing multifunctional nano carrier systems for early cancer diagnosis and therapy. Based on the new designs of nanostructures, these methods have enabled successful cell targeting for tumor diagnosis and treatment, multimodal optical imaging using quantum dots, photothermal and magnetic hyperthermia therapies of cancer, and drug/gene delivery by intelligent triggering mechanisms. These works have recently appeared in a major journal: Advanced Materials (2006, 2007, 2008, 2009, 2013).

Donglu Shi¨s current research is funded by National Science Foundation (NUE 1343568 and CMMI 1635089) on nanomaterials, and State of Ohio on high temperature magnetic materials.